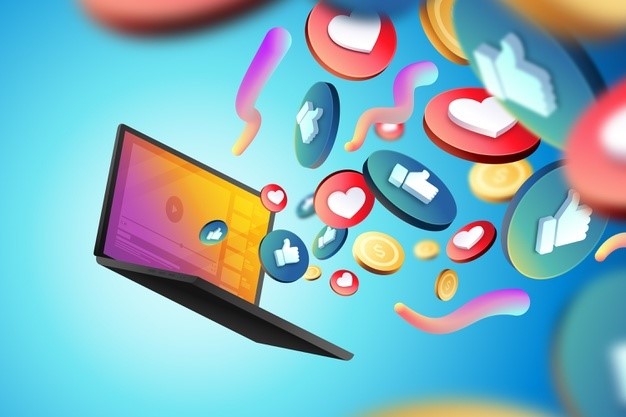 Social Media Marketing – How many times have you bought a product after viewing it on a TV commercial or discovered a 50% sale on your favourite brand by reading about it in a newspaper?
Rarely, I guess! Even the idea looks outdated in this age and day.
But you might have rushed to the famous salon in your town right away after knowing the fantastic deals and discounts on treatments offered by them through your Instagram account.
Social media platforms have greatly influenced how customers engage with businesses, react to product promotions, and develop perspectives about a certain commodity or service. However, businesses must utilize various business promoting techniques to keep their head in the online competition. With about 3.78 billion active social media users, adopting social media marketing should be your move to get the result you want.
Use these social media marketing tips and expand your brand on social platforms to get that red sales arrow on the graph moving upward.
1. The Right Platform Brings More Customers
Which platform will bring you more customers? Where does your demographic audience engage the most? As at 10 September 2021, Facebook is the current market leader surpassing one billion registered accounts and 2.85 billion monthly active users
Conduct research on consumer behaviour and the way they react to your product using different social media channels. Every individual spends an average of about 2.5 hours on social media. Knowing and understanding the platform(s) where there is an increased demand for your product will yield fruitful results in the long run while also letting you create content based on your specific audience on multiple platforms.
2. Create a Content Calendar
Keep your business website interesting, the content engaging, and posts informative through your social media marketing. This can be managed by organizing a content calendar. Planning out what you intend to post in the upcoming week on multiple social accounts enables you to keep things organized, consistent and relevant. An added benefit of posting weekly is that you can get the spotlight and always remain in the eyes of your audience.
3. Reach Out To Your Audience
According to a study, about 71% of consumers recommend a particular brand to friends after a positive interaction with the brand through online communication.
To generate a good word of referral for your business requires understanding the nature and demand of your target audience. Review the customers following you on social media, interact using email campaigns or two-way conversation through posts, videos, and comments. By facilitating your loyal customers, providing upgraded customer service, and knowing them, you create a positive image of your brand and increase your chances of generating more consumers.
4. Don't Just Stick To Advertisement.
Entertainment is the primary motive behind the huge number of followers on these social media sites. Instead of just posting advertisements on your social sites, master the element of surprising your loyal customers. Surprise them with monthly giveaways, share DIY ideas with them, a funny behind the curtain scene, or something that brings them closer to your brand.
5. Team Up With Influencers
Grow your brand by partnering up with the right influencer in your niche. It is currently the most impressive and productive social media marketing strategy, and you are sure to earn a quick but high rate of conversion. Brands are likely to get $4.87 of earned media value for each $1 spent on Instagram influencer marketing.
Click here to find out more